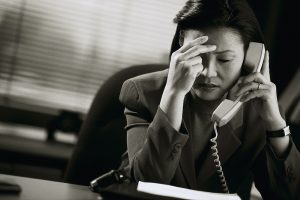 Dr. Ashley Hoyt vs. Stress
How does acupuncture help relieve stress?
Firstly, we use AcuGraph to help us map the client's physiology and energy pathways. AcuGraph is a sophisticated tool used by acupuncturists to define a person's acupuncture points. Points are found on paths in the body called "meridians" which are named after organs of the body. Organs have behaviors connected to specific symptoms. They achieve balance when an acupuncturist stimulates a person's acupuncture points. Then they can start working for you instead of against you.
Which emotions indicate stress?
Next, we ask clients about how they're feeling and how they've been expressing themselves. Emotions are some of the first indicators of an imbalance in the body. We use emotions to help pinpoint causes of stress by relating them to observable activity in the body. Emotions that indicate stress include:
increased anger
anxiety
sadness
depression
aggression
isolation
Each of these emotions connects to a particular meridian. A qualified acupuncturist can diagnose the imbalance by getting to the root of an emotional issue.
Oftentimes stress indicates an imbalance in what is known as the Earth Element. For example, Stomach and the Spleen influence stress levels in individuals. A practitioner can initiate treatment by tracking the patient's meridians and tracking down the appropriate source point.
Help cancel out stress with Vitamin B Complex
Finally, acupuncture significantly reduces the negative effects of stress on your body. Vitamin supplements multiply the benefit of the treatment when applied at acupuncture points. B Complex plays a part in producing serotonin and other neurotransmitters that help relieve stress. Our bodies already produce these helpful chemicals, but a shot of B Complex can give you a much needed boost.
If stress is affecting you, or you just have questions about acupuncture, book an appointment with Dr. Ashley Hoyt today.