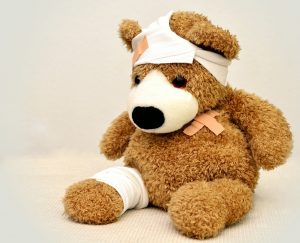 This week we're talking about 4 ways acupuncture helps overcome physical barriers to weight loss.
When we talk about weight loss we often discuss mental and emotional limitations. Those are such important hurdles to leap, but for other groups of Americans the issues can seem physically insurmountable. Does acupuncture help people with limited physical ability? How does that help them lose weight? And do you fit into one of these groups? Let's jump in and find out.
I have chronic pain.
Chronic pain is a serious issue for a surprising number of people. According to the Institute of Medicine of the National Academies, over 100 million Americans suffer from chronic pain in some form. That's almost 1 in 3 Americans, a third of the country! Whether your pain is work related, age related, or it's been around for as long as you can remember, this is a major problem. Just think of all the hours of solid work lost, family events missed and sleepless nights suffered, all over chronic pain. When you consider how an active life and good sleep all contribute to weight loss, the case for weight gain due to pain begins to add up.
I have an injury.
Pain from injury is unfortunately all too common. One of the more frequent injuries we hear about are back injuries. The American Chiropractic Association estimates that lower back pain alone afflicts approximately 31 million Americans. We need to be active in order to help manage our weight effectively  Since the back is such a crucial juncture in our bodies we need to make sure it's pain free so we can do everything that keeps us fighting fit.
That goes for sports injuries, too. Athletes often maintain high calorie diets so they can feed the machine that gives them great performance. Without all that physical activity to balance out their diets, that high metabolism can slow down leaving a heavy eater with nothing but constant hunger. So overcoming sports injuries are critical to managing weight.
I have age-related limitations.
It's a fact: we all get older. It's important as we age to assess our physical abilities and adapt our exercise and activity to keep us as strong as possible both inside and out. Joint pain, limited mobility, possible repercussions from surgery and a host of other issues can make weight loss seem like a faraway dream. In fact, the CDC reports that as of the period 2007-2010 about 13 million Americans aged 65 and older were considered obese. That's an extraordinary number of people requiring extra care in large part because they can't manage their weight.
I have a physical disability.
Physical disabilities come in a range of types and severity, from temporary to permanent, from sudden to lifelong. When they occur, there's no simple handbook for how to live with them. But one thing is for sure — people with physical disabilities need a plan.
According to the National Health and Nutrition Examination Survey reported by the CDC in 2010, up to 38% of disabled adults suffer from obesity. This causes all kinds of additional complications like needing increased physical assistance, poor heart health, high blood pressure and more.
Here's how Acupuncture helps overcome physical barriers to weight loss.
Acupuncture for Chronic Pain
First off, let's talk about chronic pain. Acupuncture has been shown to help relieve chronic pain substantially. In 2013 Daniel Pendick of Harvard University's Men's Health Watch reported on a study of 18,000 participants who received acupuncture for pain. That study showed an overall reduction in pain of 50%. In it, he quotes Massachusetts General Hospital anesthesiologist Dr. Lucy Chen, who said:
"I think the benefit of acupuncture is clear, and the complications and potential adverse effects of acupuncture are low compared with medication."
This shows that it's possible to manage pain with acupuncture, allowing patients to return to active lives where weight management is finally possible.
Acupuncture for Injury
Injuries come in many shapes and forms, so thankfully acupuncture is a precise art that lets us find the most effective way to stimulate healing. In the East, acupuncture is said to release the flow of energy through an area of the body that lets it heal itself. In the West, we might put it in terms that all medical experts can understand and agree on. For example, acupuncture stimulates muscles and signals various glands and joints to release to allow more flexibility and sustain activity. This is key to weight loss. Pacific College gets into more specifics about how acupuncture helps overcome injury.
Acupuncture for Age-Related Limitations
Acupuncture specializes in getting the body to do what it naturally wants to do. Even if it doesn't seem to be cooperating, the body's design is constant like a high performance car that just needs a jumpstart. A thorough article over at Senior Living Blog talks about many ways that acupuncture helps seniors recover lost function and restore physical strength and dexterity. Suddenly going for a walk is completely possible, and some light stretching and weight lifting isn't the herculean task it was. That means that weight loss is once again an attainable goal, helping you look and feel great, and maintaining overall health for years to come.
Acupuncture for Disability
Having a physical disability doesn't have to be a sentence to gain weight the rest of your life. Research into how acupuncture benefits patients with physical disabilities is ongoing and is coming up with compelling results. The Healthcare Medicine Institute reports on findings that Chinese physicians see a combination of acupuncture with other treatments helps cerebral palsy patients. 200 patients with hyper rigid muscles were treated with acupuncture in addition to normal treatment. This increased the effective rate by 32%. That allowed 64 additional cerebral palsy patients to relax their muscles. That kind of treatment allows patients to receive physical therapies that reduce weight gain.
Is pain preventing you from losing weight? Call 305-296-535 and book an appointment with Dr. Ashley Hoyt. Your free consultation can set you on the path to weight loss.