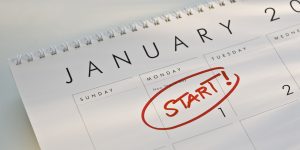 Got a New Year's Resolution? Or perhaps more than one?
Here are some suggestive ways to build new habits and make them stick. 
Good habits make all the difference in life. When you've created good habits you do the right thing, without even having to think about it. That is, you put the behavior that will allow you to achieve your goals on automatic pilot.
Have some good habits in mind you would like to adopt? Here are some tips to build those habits and make them stick.
Believe that You Can Build New Habits.
The first step in building a new habit, or habits, is believing you can. You may have tried and failed several times in the past to create good habits such as exercising, becoming an early riser, and adopting a meditation practice. However, stop telling yourself it is impossible, especially by basing it on past failures. It is not that you don't have the ability to build new habits, but that you've most likely approached the situation in a way that may not work for you and your day to day routine.
Although it's true that some people are naturally better at creating new habits than others, by following the right strategies everyone is capable of building habits and making them stick, yes…everyone.
Start Tiny.
Most of us get really ambitious when it comes to creating new habits. "A New Year a New Me" is the most popular phrase used when the month of January is soon approaching. Many will use the refreshment of a new year to attempt to achieve new goals.
For example, a lot of people who haven't exercised in years decide that they're going to start walking on the treadmill for forty minutes, five days a week. However, this is setting the bar too high, that failure is almost guaranteed, not to mention this goal is physically unsafe. Certified personal trainers are educated on this, and on the process of slowly introducing new life habits and new exercise routines in order to make the goals achievable and safe to attempt.
A much better strategy is to set the bar so low, that you practically trip over it. Make the decision to start walking on the treadmill for one minute a day. After a while you can raise the bar to two minutes a day, then three minutes, then four, and so on. It'll take you a while to build up to forty minutes a day, but you'll get there. For those who prefer the outdoors or a treadmill is not accessible to you, it is suggested to take a short five minute walk outside or a few small strolls a day and build up the time spent on these strolls after a week's time.
Be Specific.
Almost everyone wants to adopt healthy eating habits. However, "healthy eating habits" is so general and ambiguous, that it's unlikely to result in any concrete action being taken. Instead, you can decide that you're going to start taking the specific actions. As an example, you may want to purchase healthier items while shopping, such as:
Buying whole-grain pasta or whole grain bread.
Buying 2% milk or a dairy alternative.
Enjoy more fiber and fresh fruit by prepackaging healthier choices and take them with you when you start your day. Have trail mix as a mid-afternoon snack instead of getting a chocolate bar from the vending machine.
Tailor this list to match your goals.
The more specific you are as to what you're going to do, the more likely it is that you'll do it. And the more often you do it, the more likely it is to turn into a habit.
Reduce Barriers. Sometimes there's an action that we want to start taking on a regular basis, but when we think of taking the action, one or more barriers get in the way. For example, let's say that you want to start riding your bike every morning in order to lose a few pounds. However, you store your bike in the garage and in order to get to it you have to move a few boxes out of the way.
Having to move those boxes is a barrier. Even if it doesn't take more than one or two minutes to get your bike out from behind the boxes, that's enough of a barrier to reduce the likelihood that you'll go out for a bike ride. Therefore, you need to find a way to make your bike as easy to reach as possible. Or perhaps the tires need to be serviced or the chain is loose, get the bike repaired!
The fewer barriers that exist between you and your bike, the more likely it is that you'll be able to turn bike riding into a habit.
Tie It To a Trigger.
Tie the action that you're trying to turn into a habit to something that you're already doing on a regular basis. For example, if you want to start following along with an exercise DVD five days a week, tie it to some action that you do on a daily basis, such as walking the kids to school. Do the following:
As soon as you walk into the house after dropping the kids off–which is the trigger–, press "play" on the DVD player and get started, even if you move along to the moves on the screen only for a portion of the video. Slowly build up to the entire workout. Take as many breaks as needed, be sure to hydrate and find alternative positions if they are uncomfortable or could affect a past injury.
Every day follow up the trigger with the new habit, without fail. This will create a bond between the trigger and the new habit.
Sooner than you think, you won't be able to do one without immediately afterwards doing the other.
Reward Yourself.
In his book, "The Power of Habit", Charles Duhigg explains that there's something called "the habit loop". That is, every habit can be broken down into three components:
The cue: The trigger to start the behavior that you want to turn into a habit.
A routine: The actual behavior that you're trying to turn into a habit.
A reward: When you complete the action that you're trying to automate, reward yourself.
Duhigg explains that giving yourself a reward after performing the action that you're trying to automate reinforces the habit loop in your brain, so the habit is more likely to stick. He goes on to say that research shows that the best way to get yourself to start exercising is to reward yourself with a piece of chocolate once you're done. You can replace this with a chocolate protein shake or glass of chocolate almond milk or after a few weeks of committing to at least half of your routine, purchase that shirt you have been eyeing at the store or after a month book yourself a massage. The point is that the reward does not always have to be in the form of food.
Eventually your brain will enjoy exercise for exercise's sake. However, at first you have to trick your brain into creating the habit loop—that is, trick it to develop the neurological patterns of a habit– by giving yourself a reward after meeting a certain goal.
Forgive Yourself If You Fall Off the Wagon.
Picture this: you decide that you're going to start having a fruit salad as a mid-afternoon snack at work instead of taking a donut from the coffee room. The first week, everything goes well. Every afternoon you take your fruit salad out of the fridge in the coffee room and walk triumphantly past the donuts.
However, on Monday of the second week you succumb to temptation: you take a donut and you guiltily gulp it down. Afterwards you can't stop berating yourself:
I have no impulse control.
I'll never be able to change my eating habits. Why do I even try?
However, studies show that beating yourself up when you fall off the wagon is counterproductive. Instead, you should be kind to yourself. Tell yourself that you've had a minor setback, but that this happens to everyone when they're trying to build a new habit. Then, resolve to do better the next day.
Build One Habit At a Time.
Changing your behavior requires willpower, and willpower is a limited resource. That is, you simply do not have enough willpower to tackle several habits at once. Therefore, you should only try to build one habit at a time.
Once the new habit is ingrained it no longer requires will power to be sustained, which means that you can get started on building a new habit.
Conclusion
For almost any goal that you set for yourself, you're going to have to build one or more habits in order to achieve that goal.
The good news is that there are strategies that you can follow in order to make it easier to build those habits.
Apply some of the strategies explained above and have a Safe, Happy, HEALTHY, Successful New Year!
For more information about acupuncture and achieving overall wellness, please contact: Key West Wellness Center – Dr. Ashley Hoyt, A.P. 3420 Duck Ave. Key West, FL 33040 Phone: 305-296-5358 Email: Contact@KeyWestWellnessCenter.com Website: www.KeyWestWellnessCenter.com