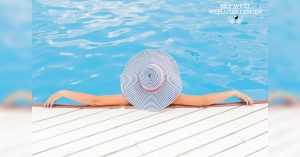 Summer is here! And oh what a joy summer brings, the longer days, sunny skies. Time to hit the water and bask in the sun? Well, here is how summer can affect your hair and skin.
Sun, sand, poolside fun—despite the fact that it no longer means two months off from school, summer is certainly a glorious time. Unpleasant as it may be, we still need to be aware of the negative effects that summer weather and activities can have on our skin and hair, and we don't just mean piling on the SPF. Consider these variables and take necessary precautions, and you'll have no problem getting through summer unscathed.
Sun
Sun isn't quite the mortal enemy it's sometimes made out to be (vitamin D, please!), but you certainly do need to make a strong effort to protect yourself against its damaging effects. It's not the first time you've heard this, but sunscreen is a must. The higher the SPF the better, but the most important thing is that you reapply frequently, at least once every two or as directions state on the bottle. Reapplication is the only thing that stands between you and a killer sunburn and resultant sun damage. Exposure to harsh sunlight is also damaging to your scalp—yes, your scalp can get burnt, too—and can wreak havoc on colored hair. We love a good sun hat look, but we also recommend applying a scalp and hair-protectant.  Your local drug store or grocery store will carry an SPF spray for your hair. Such as Clarins SPF 30 Dry Oil Sunblock for hair and body as an example.
Salt Water
As you've probably gleaned from the abundance of sea salt sprays on the market, salt water isn't all bad. In fact, it can be really beneficial for your skin—it helps to open pores and remove toxins, thereby sterilizing wounds and soothing skin irritations like itchiness and eczema, but lying in the ocean for too long can also exacerbate dryness, especially if you don't replenish moisture afterward. Your hair can also take a real beating from overexposure, resulting in serious dehydration, dullness, and tangles. Saturating hair in a leave-in conditioner before you take a dip can help to ward off damage by filling the hair's cuticle, preventing it from absorbing too much salt water, and always be sure to hit the shower after the beach for a thorough shampooing and deep conditioning treatment.
Chlorine
Kind of like salt water, chlorinated water can be incredibly drying and irritating… without the beneficial properties of salt water. Consider that chlorine is used in pools to disinfect and kill bacteria, and its harmful effects start to make a little more sense. As such, it completely strips your skin and hair.  For your hair, you can coat it in tap water or leave-in conditioner prior to heading into the pool to create a barrier, but it's important to also shampoo and condition afterward—if you can use a specialized shampoo meant to purge the hair of chlorine, even better. Bottle blondes beware: Everything you've heard about chlorine turning your hair green is true, so avoid submerging your head as much as possible. Chlorine can also be wildly drying to skin, even resulting in a rash, so head straight to the shower for a good rinse as soon as you can after getting out of the pool, and don't forget to moisturize!
For more information on overall wellness, please contact:
Key West Wellness Center – Dr. Ashley Hoyt
Your Clinic of Alternative Medicine, (305) 296-5358
Contact@KeyWestWellnessCenter.com